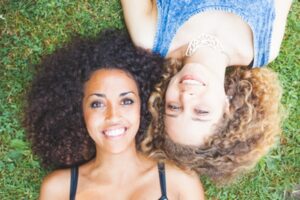 Summer is almost here which means it is time to start preparing your curls for the warmer weather. As the seasons change it can affect the way your hair behaves. It is important to protect your hair throughout these changes in temperature to keep it healthy and strong.
Here are some tips for managing your curly tresses throughout the season:
Moisturize
Due to the increase in temperature you may be inclined to wash your hair more frequently to cool down and wash away accumulated sweat and products. Remember to always moisturize your hair after you wash it. If you notice your hair is starting to feel drier than usual, opt for a cleansing conditioner (co-wash) instead of shampoo. By co-washing your hair, you can still remove the build-up of product without stripping your hair of nutrients it needs to stay hydrated.
Protect
Just like your skin in the summer, your hair is sensitive to the sun. Although your hair won't get sunburn like your skin, overexposure to the sun can damage your cuticles. If you're planning a trip to the beach don't forget your sun hat, aside from looking cute and shading your face it can act as a barrier between your hair and the sun. We recommend a loose-fitting sun hat, preferably satin lined.
You may be inclined to throw your hair in a ponytail on those days when the heat is unbearable. Remember to make sure that your ponytail is loose. If you usually wrap your scrunchie around your ponytail three times, try just doing it twice. Keeping your hair loose will help prevent breakage.
If you're planning on going for a swim, opt for a satin lined swim cap to protect your hair. Whether you are going for a dip in a swimming pool or the ocean the water can have a negative effect on your hair. Chlorine and salt water can be very drying on your curls. Before applying your swim cap, be sure to moisturize your hair first. You can mist it with water and then apply a creamy leave-in conditioner.
Style
Your hair will be at its best when it is being treated properly. Consult a professional stylist to help not only manage your curls but allow them to flourish. Leslie Ellen Abbate is a trained curly hair specialist in NYC with over 15 years of experience. Leslie Ellen Curly Hair Salon is dedicated to servicing clients of all hair types with the goal to make you look and feel beautiful and confident.
Treat your hair to the best by visiting Leslie Ellen Curly Hair salon in the Flatiron district!
Visit our Hair Gallery to see our happy and beautiful curly-haired clients!