Dry, humid summer weather can cause a lot of stress for us curly haired girls! Never fear though ladies, there are many ways to beat the heat and humidity to create gorgeous curls. Hair gets frizzy when it needs more moisture, so remember to condition, condition, condition! Put your best curls forward with these summer hair tips:
Wash Less
Many people think they need to wash their hair more in the summer to combat the sticky heat. I recommend doing the opposite though. Rinse your hair daily, but only use shampoo once or twice a week. The summer heat dries out curly hair, and shampooing will add to this! Still condition daily to reduce frizz and create shiny, beautiful summer curls. Check out a recent blog post to learn more about conditioning your curly hair.
Try an Up-do
The more you touch and play with your curls, the frizzier they will become. Avoid this problem on the hottest of days by trying an up-do. Try a simple ponytail to get your curls up and off of your neck! Another great idea is to wear a cute hat while out and about on a sunny day. This will protect your hair and scalp from the sun, and keep you cool.
Get a Seasonal Cut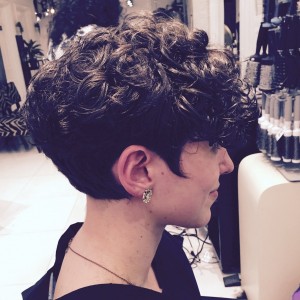 The higher the humidity, the more your curls will shrink up. Ladies with tight curls: Opt for a longer style for the summer. Longer hair means more weight, loosening and pulling down your curls.
For those with wave-y curls, try a short, fun style for the summer! The s-formation of your curls will tighten up in the heat, creating ringlets with bounce.
For your next summer cut, contact Leslie online or at 718-926-4050 today!